The 2019 Mazda CX-3 Delivers a Dynamic Road Experience with a Sleek Sense of Style
When drivers from Harrisburg and Carlisle decide to go home in a subcompact car, they want some assurance that they're driving home in a compromise. They want a smaller vehicle, while also delivering an experience as rich and worthwhile as what they'd find in a bigger model.
When you choose the 2019 Mazda CX-3, that's the kind of experience you can count on. Agile, stylish, thoroughly equipped and comfortable, the 2019 CX-3 is a subcompact SUV designed to deliver a higher standard of "More."
Responsive Driving Powered by a Rock-Solid Powertrain
If you're looking for a high horsepower SUV, the Mazda CX-3 isn't it. It offers a lone 2.0-liter inline-4 that's capable of 148 horsepower with 146 pounds-feet of torque. Anyone who's ever driven a Mazda can tell you, however, that horsepower is only one small part of the equation.
The CX-3 feels impressively responsive on the road, thanks to an expertly tuned suspension and steering systems. A lightweight and carefully engineered chassis, meanwhile, mean that the CX-3 can make more of its inline-4 engine that many of its similarly-sized peers. The CX-3 can jump from zero to 60 in under eight seconds; better than many subcompact competitors.
And while some might prefer more horsepower, Camp Hill drivers will have a hard time arguing with its fuel economy: 29 miles per gallon on city roads and 34 miles per gallon on highways.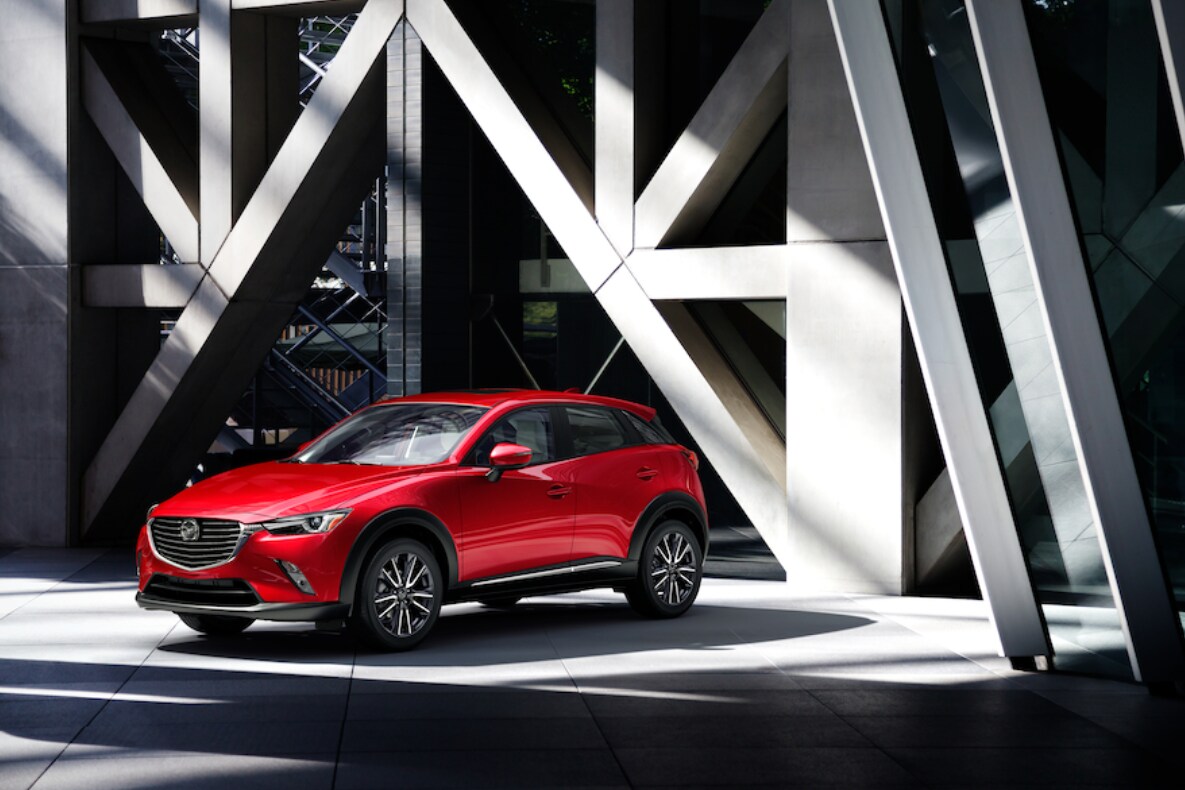 High-End Features and Technology
Like most new Mazda cars, the 2019 CX-3 also works hard to deliver a robust selection of standard and optional features. Its standard package includes the Mazda Connect infotainment system with a 7-inch touchscreen monitor, rearview camera, push-button start, keyless entry, and more.
If you decide to climb up to some of its higher-level trims, you'll get the benefit of features like automatic climate control, rain-sensing windshield wipers, and heated side mirrors. The CX-3 can also come with built-in navigation, a heated steering wheel, and much more.
Tools to Keep You Safe on the Roads of Hanover
What if you're a York-area driver concerned with road safety? The 2019 Mazda CX-3 can come equipped with a plethora of coveted safety options.
In addition to industry-standard features like airbags, the CX-3 offers active safety technology options including blind-spot warnings, lane-departure warnings, and a rearview camera. It can additionally offer advanced stability and traction controls, as well as a collision warning system.
In the event of an accident, the Mazda CX-3 will keep you safe. More importantly, it provides the tools you need to avoid accidents before they ever happen.
Come and Learn More with a Test Drive at Freysinger Mazda
Would you like to know more about the 2019 Mazda CX-3? Get in touch with the sales teat at our location in Mechanicsburg. Our friendly team of Mazda experts would be happy to answer any questions you have about the new CX-3. We can tell you everything you need to know to make the purchase that feels right for you.
More importantly, we can put you behind the wheel of a new model for a test drive. Nothing we tell you will compare to spending a few minutes behind the CX-3's wheel. We're confident you'll be impressed by the time you spend driving it.
Don't hesitate to reach out to us today, ask about our new inventory, and schedule an appointment. We're always happy to hear from our customers.